DIY DIGITAL GREETING CARDS
Holiday season is fast approaching and that means it time to start designing and sending off this years greeting cards. As you probably know handmade cards make for the perfect sentimental gift, however when you have a heard of recipients and not a lot of time between preparing gifts, meals and other festivities aren't always a feasible option. This is when digitally designed and professionally printed cards are the way to go. Contrary to popular belief you needn't spend weeks designing and waiting for your cards to be printed. Companies like 24HourPrint can have your cards printed and on their way to your door within a 48 hour print process and offer free design templates for just about any editing software you can think of. In honour of greeting card season and in hopes of exposing other to the joys of design, I have decided to share with you a few tips for creating some great festive cards that your friends and relatives are sure to love. These tips are from a design point of view and can be easily transferred to suit any project you are working on, whether it be creating invitations, business cards and even flyers.
Set your goals- With any creative project you need to know what you want to achieve and when you want it done by. Yes your design, content and time frame may change as you continue through the design process but it's important the set baseline goals to help yourself get started. I tend to find the initial concept the hardest to come by but once established things just seem to flow naturally.
Analysing your Audience- Determine who are designing for and what these people will enjoy and won't. Yes, joker Uncle Bob will laugh his hat off at the half naked Santa stuck in the chimney but chances are Great Aunt Suzie will deem it offensive for a religious holiday. By looking at your audience you should be able to determine what sort of imagery, style and text is suitable and design accordingly.
Establish your budget- Huge, fully embossed pop-up cards will surely create an impact, but can you really afford the cost that it will take to have them printed and sent off?  There's nothing worse than pouring your heart and soul into a project only to find you are grossly over budget and are forced back to the drawing board. If you want to create something super special do your research first and see if your little additions will meet your budget. With a bit a creatively and smart shopping your greeting cards don't need to be extravagant or expensive to be special.
Set your theme- Do you want your cards to be cute, funny, traditional, religious or minimal? Once you have decided on the theme of your cards it's a lot easier to find resources, decide on your colour scheme, layout and overall design.
Locate needed resources- There are loads of free and easy to access design resources on the net. Once you have decided on what your audience will enjoy and your theme you should have a pretty good idea about the content you want to include.  Finding fitting brushes, backgrounds and text should now be easy. Here are a few festive Photoshop brushes I love which you may find useful. All are free to download; Holiday Greeting text, Nightmare before Christmas Characters, Unique Christmas Trees, Snow Flakes and Traditional Christmas icons.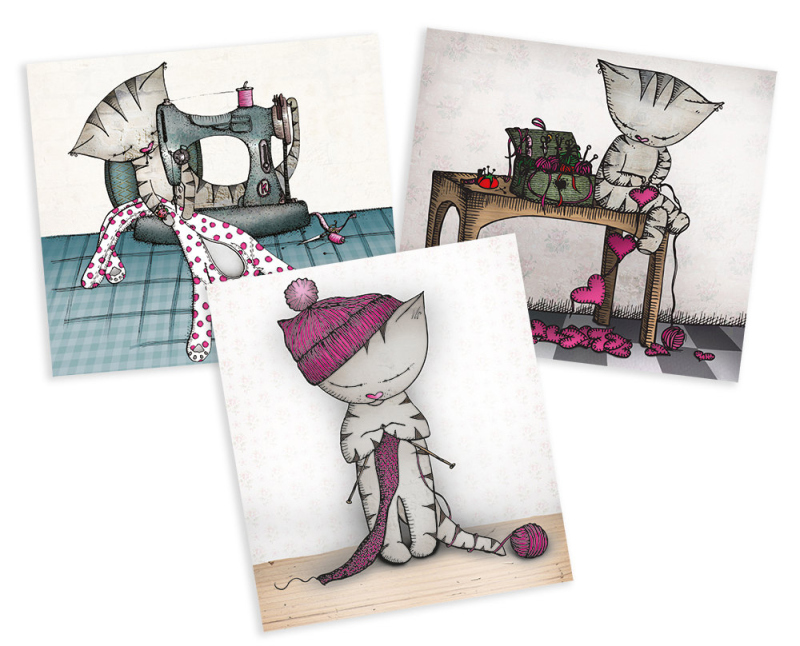 Start designing- When designing don't forget to take into account the following;
- Boarders, bleed lines and folds
- The legibility of your text. Use a font that is clear and easy to read and a large enough size. The purpose of a greeting card is to send a message and incoherent text defeats the purpose of sending one at all.
- Your colour scheme. Does it allow text and imagery to be clear?
- The quality of images included. Ensure that any photographs are of  good quality so they don't become pixelated or distorted when printed.
- Your personality! You needn't stick to traditional colour schemes or layouts. Be creative and design something truly beautiful and unique to you. Festive cards needn't be red and green and full of Santa Clauses and reindeer. Make your design personal; add a family photography, a picture of your pet in a Santa hat, a child's drawing or your own personalised greeting, not something off Google.
So there you have a step by step guide to help get your started at designing your own greeting cards. Have fun and be sure to comment with any of your design tips and tricks. I'd love the hear them. Becky xo
Image Sources: Illustrated Greeting cards designed by the lovely Ella Goodwin and available for purchase at Shop Miss Ella.