CREAM CHEESE BERRY ROULADE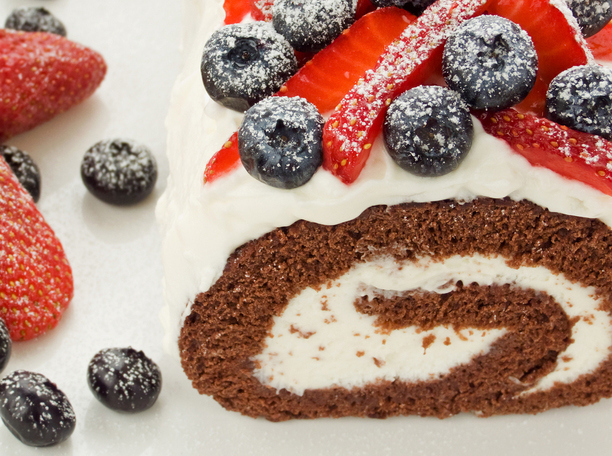 This cream cheese berry roulade makes for a great festive dessert or snack and although it looks impressive is fairly easy to make.
What you will need:
4 tablespoons (fine) caster sugar
6 eggs, separated and at room temperature
1 teaspoon vanilla
2 tablespoons dutch cocoa
120 grams extra dark chocolate
300 grams cream cheese
1/4 cup icing sugar, sifted
1 teaspoon vanilla
Blueberries, strawberries and icing sugar for garnish.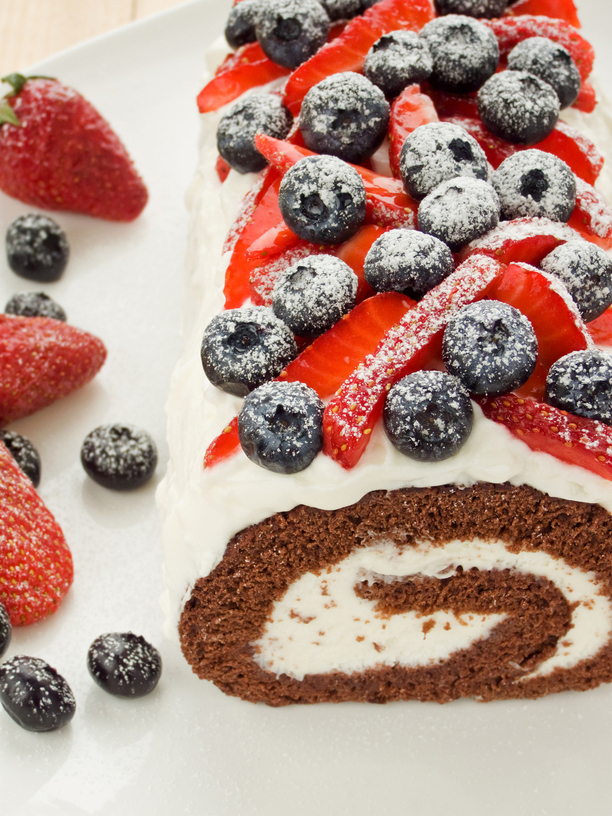 What to do:
Preheat your oven to moderate and grease and line a shallow slice/lamington tray. Seperate your egg yolks and whites into 2 separate bowls and set aside. Melt your chocolate over a saucepan of boiling water and allow to cool slightly. Add the sugar and cocoa to the bowl containing the eggs yolks and beat using an electric beater until your mixture becomes light and fluffy. Now fold through your chocolate and vanilla. Using a clean set of beaters beat your egg whites until a stiff peak and gently fold into the chocolate mixture, being careful to not to over mix the batter. Pour your batter into your prepared tray and cook for around 15 minutes or until the sponge springs back when touched. Allow the sponge to cool before turning out onto a lightly icing sugar dusted board lined with grease proof paper. In a bowl beat together your cream cheese, vanilla and sifted icing sugar. Spoon half of your cream cheese mixture onto the top of the sponge and gently roll. Top your roll with the remaining cream cheese mixture, berries and a dusting of icing sugar.