EASY VANILLA GLAZED DOUGHNUTS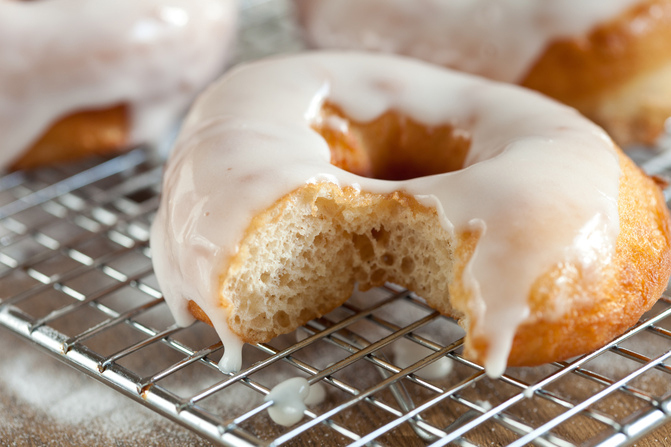 Homemade doughnuts have been something I have been wanting to make for a while now. Doughnuts are my absolute favourite treat. This morning I finally got around to making them and after way too much "sampling" it's safe to say this is my new favourite recipe. Next time I think I will try a chocolate or coconut glaze!
What you will need:
3 tablespoons active dry yeast
1 cup whole milk
2 cups plain flour
2 tablespoons caster sugar
2 teaspoons vanilla
3 egg yolks
4 tablespoons unsalted butter
Vegetable oil, for frying
1 1/2 cups icing sugar
4 tablespoons milk
2 tablespoons vanilla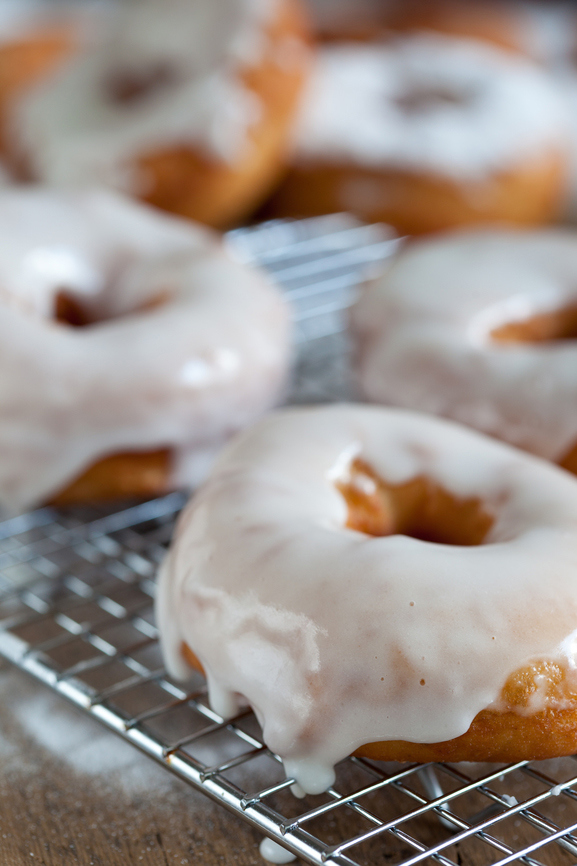 What to do:
In a small saucepan lightly warm your milk. Now in a small bowl combine together 3/4 of a cup of  the warmed milk with 2 tablespoons of the yeast. Mix together until a paste has formed, cover the bowl with some plastic wrap and set aside. Combine the remaining warmed milk and yeast in the bowl of a stand mixer fitted with the flat beater attachment. Sift your flour then add 1/2 cup along with the sugar, vanilla and egg yolks. Mix until smooth; about 5 minutes. Turn off the mixer and add 1/2 cup of the remaining flour. Mix on low for about 60 seconds. Add the butter and mix until it becomes incorporated into the mixture evenly. Switch to a dough hook and with the mixer turned off, add more flour, about 1/4 cup at a time. Knead the dough on medium speed between additions until the dough pulls completely away from the sides of the bowl and is smooth and not too sticky. It will be very soft and moist, but not so sticky that you can't roll it out.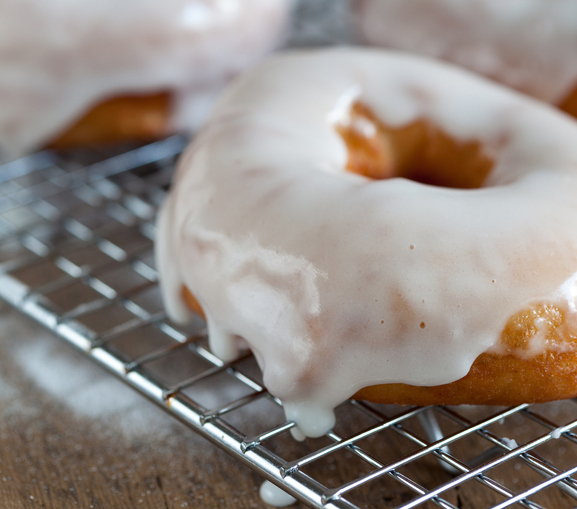 Roll out your dough on a lightly floured surface to 2.5cm  thick.Cut out your doughnut shapes using a doughnut cutter or 2 circular cookie cutters. Line and flour a baking tray with grease proof paper and place your doughnuts about 5 5cm apart. Cover with plastic wrap and allow the yeast to further rise. This works best in a warm environment. I like to place my dough on the bench near my heated oven however, under a range-hood light works well too. Once your dough slowly springs back once touched it's done. Mine took about 15 minutes. Heat your oil in a deep fryer or heavy bottom saucepan to around 180°C. You can use a candy thermometer to test the temperature or place in a doughnut hole to test if the oil is hot enough. Now place your doughnuts in a few at a time and lightly fry on each side until golden brown. Be careful not to overcrowd the oil as it will reduce the temperature and result in  soggy doughnuts. Once cooked place your doughnuts onto some paper towel to absorb any excess oil. While your doughnuts are cooling you can start on the glaze. In a large bowl sift in your icing sugar. Add the milk and vanilla essence and whilst until smooth. Drizzle over your cooled doughnuts. Makes about 12 doughnuts.
Recipe adapted from here.
NEW! <Download the Recipe PDF>