FESTIVE LEMON CURD BERRY TART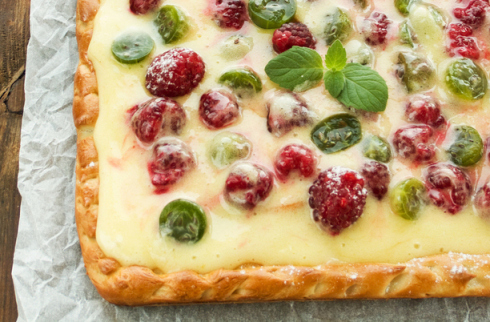 I have to admit I enjoy overindulging on festive treats at Christmas time more so than the actual gifts. After all Christmas is one of the only days of the year where you can enjoy that second slice of cheesecake without feeling guilty. Today I have decide to share with you something I have been working on; a lemon curd and berry tart which certainly is indulgent. I hope you enjoy it as much as I do (did!).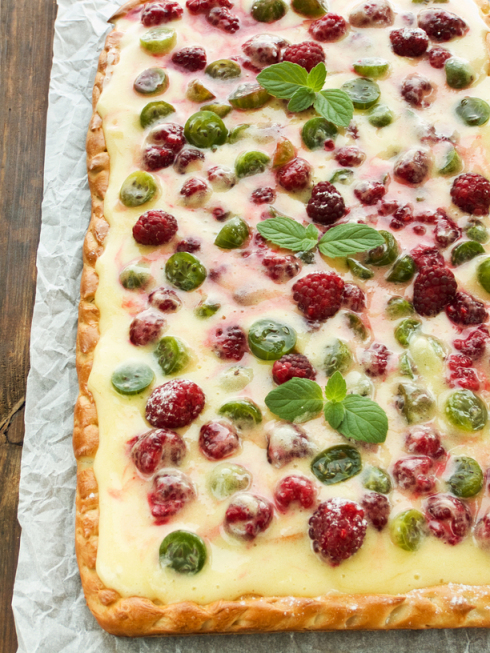 What you will need:
-1 large rectangular sheet of sweet pastry, you can use store bought or make your own. I made my own using this recipe.
- 4 tablespoons of butter
- The juice of 2 lemons
- 1 1/2 cups caster sugar (fine sugar)
- 4 eggs yolks at room temperature
-  2 teaspoons of finely grated lemon zest
- 2 cups of your favourite berries, I used raspberries and gooseberries (Green & Red!)
- Egg wash
- Mint for garnish (optional)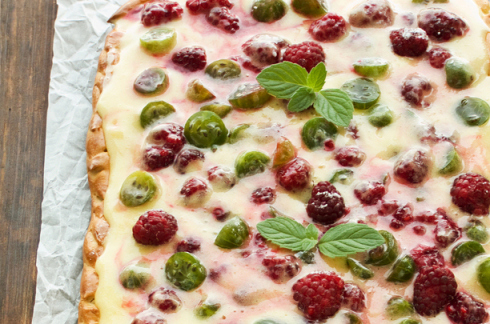 What to do:
Preheat your oven to moderate and grease and line a slice tray. Roll out your pastry into a large rectangle about 1 inch wider and longer than your tray. I like to place a sheet of grease proof paper over my dough then roll. This stops the dough from sticking to the rolling pins and also limits the amount of  additional flour you need, which can sometimes alter the taste and consistency of the pastry. Roll the sides of the dough inwards to create and border and a tart base the size of your tray. Use a fork to create a few small holes in the base of the dough, brush your dough (particularly your border) with the egg wash and bake for around 10-15 minutes or until just crisp. In the meantime start making your lemon curd. To do this beat together your egg yolks and sugar in a large bowl until the sugar has dissolved (it will no longer feel gritty). Add your sugar and yolks to a saucepan along with the butter, lemon juice and rind and cook on a low heat, whisking every so often until your mixture has thickened. Now remove your curd from the heat and pour into your tart base. Return your tart to the oven and bake for an additional 5-10 minutes or until the pastry is golden and the curd has stabilised. Remove  your tart from the oven and allow to cool before pushing your berries into the lemon curd. Garnish with a few sprigs of mint and a light dusting of icing sugar. Enjoy!