Welcome to my first "Spotlighted Post". Todays featured blogger is Lorraine from Sweet Little Thang. Lorraine's blog has to be one of my favourites, and what's not to love! Sweet Little Thang is jam packed with super creative and delicious recipes and as well as loads of DIY projects. Lorraine was kind enough to let me interview her for my blog. Here's what she had to say…
My name is Lorraine, from Phoenix, Arizona. Being born and raised in the desert, there isn't much to do outdoors in the Summer time due to the heat! Though being cooped up inside ended up paying off for me in the long run. My blog, Sweet Little Thang, definitely captures a lot of my passions. I love being creative and bringing smiles to people's faces. From baking sweet desserts to designing everyday crafts and projects for any age! My blog is a playground for the imagination.
Your recipes are truly amazing, what/who inspired you to start cooking? Have you had training formal or otherwise?
I come from a long line of bakers! My mom though, is probably my number one inspiration when it comes to my love for baking. I have so many memories of watching my mom "work her magic" in the kitchen around the holidays and making wedding cakes for close family and friends. I haven't had any "formal" training/schooling in cooking or baking. Just a lot of persistence and trial and error…for FREE! haha
What advice do you have for those wanting to learn to cook? Where would you consider the best place to start?
Probably the best advice I can give is don't be afraid to try new things and that the 3rd or 4th batches will ALWAYS be better than your 1st! Baking is not a difficult thing to do if you really have the heart for it. The best place to start, I would say, is with a classic chocolate chip cookie. The recipe is simple and the base construction for most cookies.
You have a wide variety of craft ideas and DIY's featured on your blog, what would you consider to be the must have items for anyone wanting to get into craft and DIY?
The basic materials every project enthusiast needs are:
-Glue Gun
-Ribbons
-Paint brush/acrylic paints
-Scissors
-Needle nose pliers
What inspires you to keep coming up with the creative recipes and crafts that feature on your blog?
Well my first inspiration has to be the fact that I'm a newlywed and I want to perfect my "wife" skills haha Secondly, I love sharing my ideas with others and enjoy hearing how the projects or recipes I have supplied turn out for them.
What are you favourite recipes?  Would you like to share one?
Some of my favorite recipes are red velvet cake, Reese's peanut butter cup ice cream pie, classic cheesecake, and ANYTHING with coconut! Another great recipe that collide cheesecake and chocolate is Chocolate Cheesecake Cupcakes.
Chocolate Cheesecake Cupcakes Recipe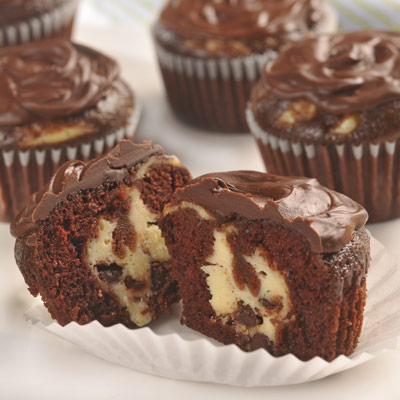 Heat oven to 350 Degrees
Grease or paper-line 16 muffin cups
Ingredients:
2 cups chocolate chips
1 1/2 cups all-purpose flour
1 teaspoon baking soda
1/2 teaspoon salt
1/2 cup granulated sugar
1/3 cup vegetable oil
1 large egg
1 teaspoon vanilla extract
1 cup water
2 packages (3 oz. each) cream cheese, softened
1/4 cup granulated sugar
1 large egg
1/8 teaspoon salt
Step 1- Microwave 1/2 cup chocolate chips in small, uncovered, microwave-safe bowl on HIGH  for 45 seconds; STIR. The chips may retain some of their original shape. If necessary, microwave at additional 10 to 15-second intervals, stirring just until chocolate chips are melted. Cool to room temperature.
Step 2- Combine flour, baking soda and salt in small bowl. Beat sugar, oil, egg and vanilla extract in large mixer bowl until blended. Beat in melted chocolate; gradually beat in flour mixture alternately with water (batter will be thin).
Step 3- Beat cream cheese, sugar, egg and salt in small mixer bowl until creamy. Stir in 1 cup morsels.
Step 4-  Spoon batter into prepared muffin cups, fill 1/2 full. Spoon filling by rounded tablespoon over batter. Spoon remaining batter over filling.
Step 5- Bake for 20 to 25 minutes or until toothpick comes out clean. While still hot, sprinkle with remaining 1/2 cup morsels. Let cool for 5 minutes or until morsels are shiny; spread to frost. Remove to wire racks to cool completely.
The photographs on your blog are beautiful. Do you any tips for food bloggers in regards to taking good photographs? (Lighting, camera tips etc.)
In regards to the photos in my blog, I am pretty blessed that my husband, Alonso Murillo, is a highly acclaimed photographer who has photographed a slew of celebrities and is published worldwide. Though I know, typically, most people don't have that advantage, so I do have a couple tips for capturing the best angle for your creations.
-Make sure to always display them on solid colored plates. This way, all the attention is on the dessert and there's no distraction with bright colors or patterns.
-Only use the BEST ones out of the batch! Place one dessert closer to the camera so it only has complete clarity on one, the rest will be slightly out of focus. That will add great dimension to the photo
I would like to thank Lorraine for for allowing me to interview her. If you too would like to become one of my "Spotlighted" Bloggers feel free to contact me or comment.